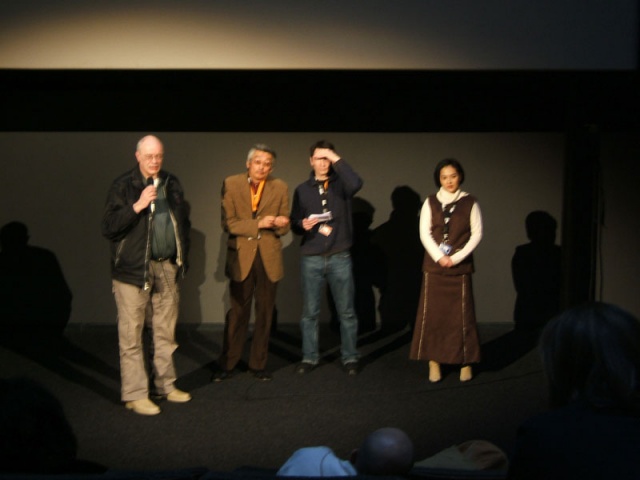 Tony Rayns, Nagasaki Shunichi, translator guy and Mizushima Kaori at the Q&A after Wild Side/After That, all completely blinded by the stage lights, unable to see who in the audience wanted to ask a question.
Films seen on my first day at the festival:
Having to wait for 30 minutes until the "technical difficulties" with the projector were solved made this seem a very long sitting, but still an impressive unusual and original film.
The first and only Iraqi film I've ever seen, and it's a great one... Shot with mostly non-actors in various very photogenic locations in and outside of Baghdad, all the more amazing after hearing the director talk about how the crew itself had (and has) to deal with threats and kidnappings as well.
Very moving 40 minute story filmed in one single continuous shot by Song Ilgon (three films of whom appear in my best-of-2005 list).
Shinya Tsukamoto's amazingly intense vision of claustrophic hell, painful to watch at times but still left me wanting for more. Looking forward to seeing the extended 49 minute version.
The first Nagasaki film I saw, apparently one of his most inaccessible (or so Tony Rayns warned). A behind-the-scenes documentary with very poor picture and sound quality, the first half is difficult to sit through, but the second half gets quite funny and exciting as the filmcrew secretly trails the girlfriend of one of the actors through Tokyo.